High beta investment strategies are great … when the market is rising. But low (and negative beta) strategies seem appropriate when investors anticipate an equity market downturn.
Bloomberg — The market, it's said, finds a way to maximize the pain. For everyone who fell in love with cyclical shares just in time for them to drop the most in two months this week, it's an adage they can relate to.
Lurches in retail, technology and commodity stocks are spelling trouble for newly christened macro bulls, sending an exchange-traded fund that tracks high-volatility shares to its first decline since October. Back on top are health care, utilities and real estate, defensive sectors that dominated all year.
While none of the moves were huge, they stung fund managers who hoped economically sensitive industries were tickets to redemption after 71% of them trailed benchmarks through October. Betting on volatile shares has been a hallmark of late-season recovery strategies that looked like a sure thing as the S&P 500 rallied. This week was a reminder they're not.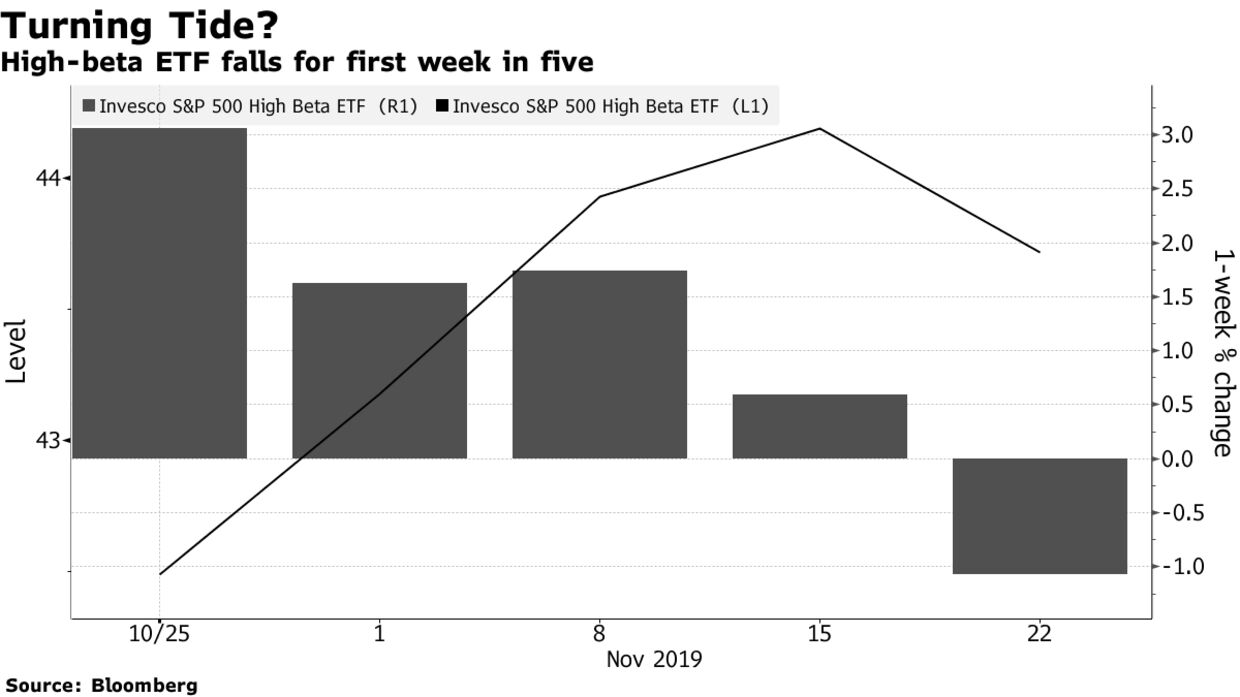 Among struggling equity managers, a spate of improving economic reports opened their eyes to the possibility a pivot point was at hand for cyclicals. The veil lifted, mutual funds dutifully raised overweight exposure to the highest level in two years, according to Goldman Sachs, increasing allocations toward industrials and semiconductors and away from utilities and staples.
Here is the Invesco High Beta ETF, having a historic beta (relative to the S&P 500 index) of 1.30.
The Invesco bond fund has a beta of 0.073.
Invesco's mortgage ETF (primarily backed by agency MBS) has a beta of … -0.025 relative to the S&P 500 index.
Lastly, we have the Invesco Muni fund with a beta of 0.044.
Of course, investors can hedge market downturns using options.
And we are talking about BETA and not BETO!