U.S. consumer sentiment fell in early August to the lowest level in nearly a decade as Americans grew more concerned about the economy's prospects, inflation and the recent surge in coronavirus cases.
The University of Michigan's preliminary sentiment index fell by 11 points to 70.2, the lowest since December 2011, data released Friday showed. The figure fell well short of all estimates in a Bloomberg survey of economists.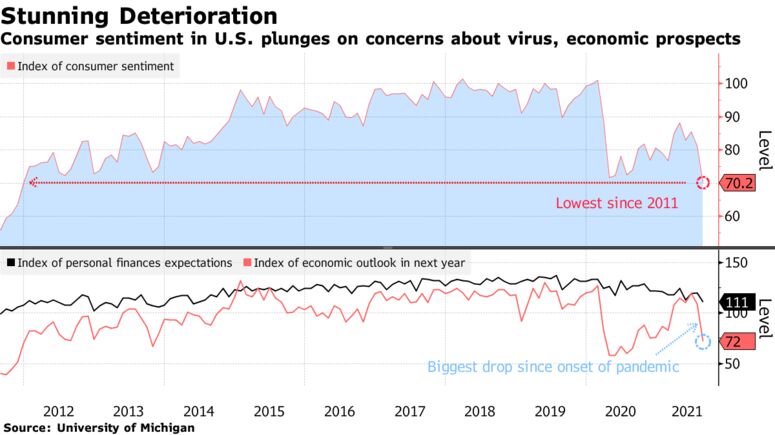 The slump in confidence risks a more pronounced slowing in economic growth in coming months should consumers rein in spending. The recent deterioration in sentiment highlights how rising prices and concerns about the delta variant's potential impact on the economy are weighing on Americans.
"Consumers have correctly reasoned that the economy's performance will be diminished over the next several months, but the extraordinary surge in negative economic assessments also reflects an emotional response, mainly from dashed hopes that the pandemic would soon end," Richard Curtin, director of the survey, said in the report.
The expectations gauge plummeted almost 14 points to 65.2, the lowest since October 2013. A measure of consumers' outlook for the economy over the coming year soured, falling the most since the onset of the pandemic in March 2020.
Only 36% of respondents expect a decline in the jobless rate, down from 52% the prior month, despite record job openings. Consumers also became decidedly downbeat about their income prospects. The gauge of expected personal finances fell to a seven-year low.
Rising prices are having a clear impact on Americans' budgets, particularly among those with lower or fixed incomes. Nearly a third of those aged 65 or older complained that inflation had lowered their living standards, as did about a fourth of those with incomes in the bottom third or with a high school education or less.
The Michigan report showed buying conditions deteriorated to the lowest since April of last year.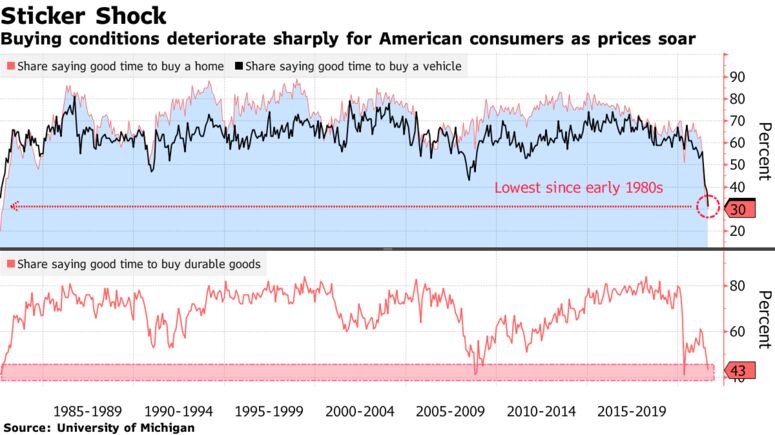 Yes, only 30% of respondents felt that it was a good time to buy a home. Particularly since home prices are rising at a 16.6% YoY pace, faster even than the peak of the infamous home price bubble of 2005. But this time, The Fed is blowing the bubble, not easy mortgage credit like in 2005.
Apparently, Treasury Secretary Janet Yellen does not inspire confidence in consumers.