Now that President Biden is interviewing Lael Brainard for Federal Reserve Chair, I am really getting a peaceless, uneasy feeling that The Fed will NEVER raise rates and inflation will be perpetual. To whit, …
Prices paid to U.S. producers accelerated in October, largely due to higher goods costs, fueling concerns about the persistence of inflationary pressures in the economy.
The producer price index for final demand increased 0.6% from the prior month and 8.6% from a year earlier, matching forecasts, Labor Department data showed Tuesday. The annual advance was the largest in figures back to 2010.
Excluding the volatile food and energy components, the so-called core PPI rose 0.4% and was up 6.8% from a year ago.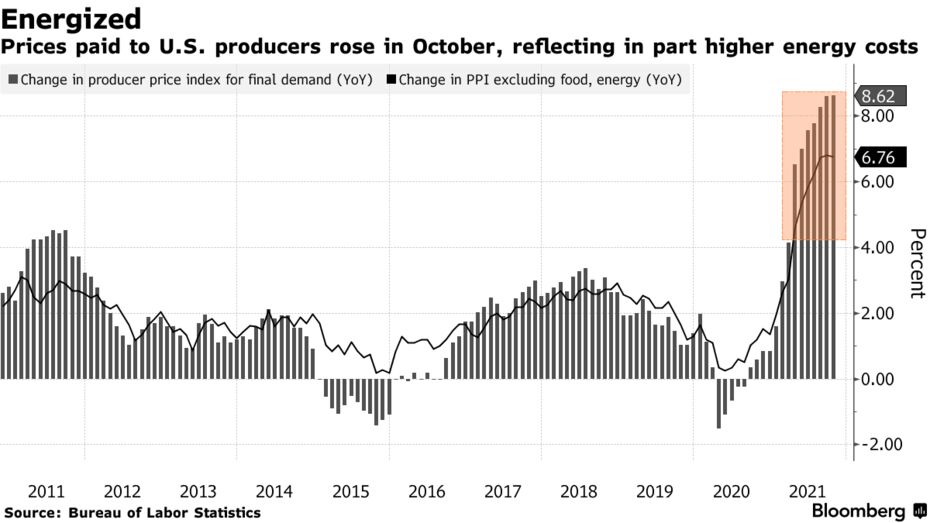 More than 60% of the headline increase was due to goods, which jumped 1.2%. Higher energy costs, including that for gasoline, drove the gain. The cost of services rose a more moderate 0.2% for a second month, reflecting a further pullback in the cost of securities brokerages and investment advice.
The report underscores how transportation bottlenecks, materials shortages and increasing labor costs have sent prices soaring across the economy in recent months. Trucking freight costs jumped a record 2.5% from September.
Inflation is a tax created by printing too much money and stupid Federal economic policies (or follicies).
Lael Brainard? Discussing the chairmanship with Brainard could signify that the Biden team is weighing how a break with Powell might help advance their goals for the central bank. Brainard and Powell work closely together on multiple issues and are viewed as holding similar views on monetary policy, but she's favored a tougher stance on big banks.
Remember, The Federal Reserve is a privately-owned entity independent of The Federal Government. A Brainard appointment would make The Fed the financing arm of the Democrat Party.