Its the start of a new week after the closure of several US banks (SVP, Signature) and the failure of Credit Suisse. But swaps spreads have calmed down a bit and are no where near the credit crisis highs of late 2008. Or the plain vanilla swap between fixed and variable contracts (white line) has simmered down a bit. BUT was never as high as it was during the financial crisis. Panic by The Fed and FDIC much?
And the 2-year Treasury yield dropped -10 basis points … again.
… and at exactly 5pm the Fed announced "coordinated central bank action to enhance the provision of U.S. dollar liquidity" by opening daily Dollar Swap lines with all major central banks, in a carbon copy repeat of the Fed's panicked post-covid crisis policy response playbook.
The Bank of Canada, the Bank of England, the Bank of Japan, the European Central Bank, the Federal Reserve, and the Swiss National Bank are today announcing a coordinated action to enhance the provision of liquidity via the standing U.S. dollar liquidity swap line arrangements.

To improve the swap lines' effectiveness in providing U.S. dollar funding, the central banks currently offering U.S. dollar operations have agreed to increase the frequency of 7-day maturity operations from weekly to daily. These daily operations will commence on Monday, March 20, 2023, and will continue at least through the end of April.

The network of swap lines among these central banks is a set of available standing facilities and serve as an important liquidity backstop to ease strains in global funding markets, thereby helping to mitigate the effects of such strains on the supply of credit to households and businesses.
And once the USD swap lines are reopened, the rest of the cavalry follows: rate cuts, QE (the real stuff, not that Discount Window nonsense), etc, etc. In fact, we have already seen a near record surge in reserve injections: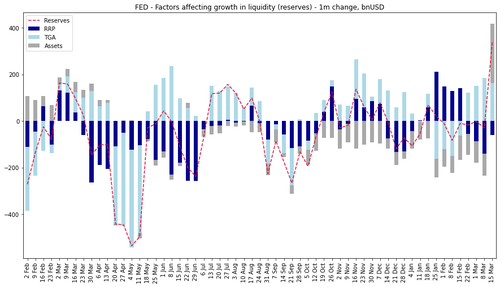 The Fed may as well formalize it now and at least preserve some confidence in the banking sector, even if it means destroying all confidence left in the "inflation fighting" Fed, with all those whose were in charge handing in their resignation for their catastrophic handling of this bank crisis.
The bank bailout express!