The Federal Reserve (and other central banks) have been hyperactive in pushing interest rates to near zero (and negative in Europe and Japan). Here is the Fed's activity.
One of the by-products of low rate policies is that pension funds cannot meet their projected payouts to retirees. As a result, pension funds are seeking to take-on more risk in their hunt for higher yields.
(Bloomberg) — Arizona's $41 billion State Retirement System is looking to dedicate one out of every six dollars it manages to direct lending — more than five times the industry average — in a move some see as a harbinger of what's to come for the booming asset class.
Investors have plowed hundreds of billions of dollars into private-credit funds in recent years, lured by premiums that are more than five percentage points higher than competing public debt. Yet less than 3% of pension portfolios were dedicated to the sector as of December, according to London-based research firm Preqin. That may be about to change.
In a recent survey of firms managing nearly $400 billion in private-credit strategies, nearly 90% said they expect pension funds to up their allocations over the next three years. The Ohio Police & Fire Pension Fund said this month that it was cutting its high-yield exposure as it moves toward a 5% target for private debt. And in its most recent financial statement, the Teachers' Retirement System of the State of Illinois said it "continues increasing exposures to private debt opportunities," even as it retreats from fixed income broadly.
"We've been invested in private debt since early 2013," said Al Alaimo, who oversees the Arizona fund's credit investments and aims to boost direct lending, one of the most popular private-credit strategies, to 17% of the portfolio, from about 13.6% previously. "We were very conscious that we were an early adopter and we tried to lock up as much capacity as we could with managers we perceived as being the best."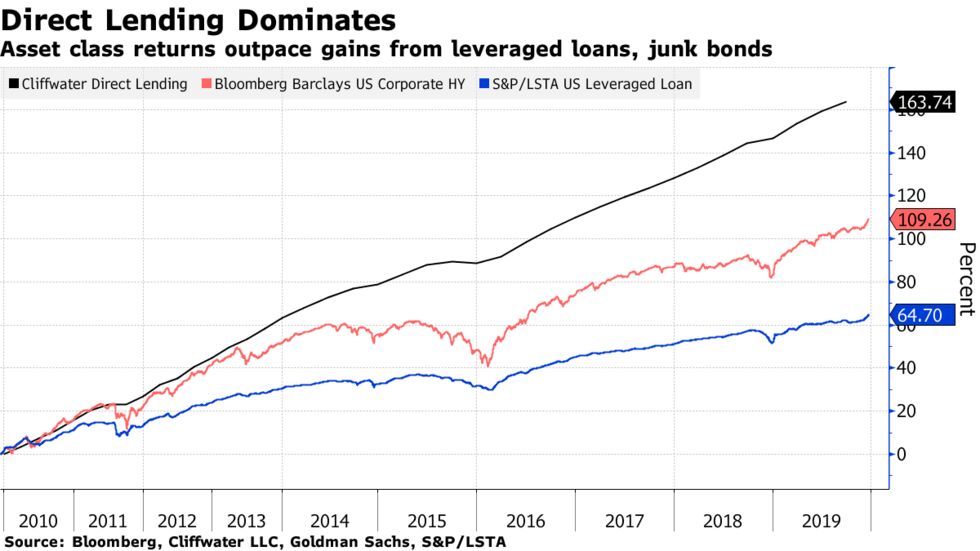 Now others funds are catching on, too.
The number of U.S. public pensions active in private credit climbed to 281 this year, with a median allocation of 2.9%, up from 186 and 2.1% in 2015, according to Preqin.
That may not seem like much, but with $4.57 trillion in assets, even incremental increases in exposure can mean billions of dollars in inflows for alternative credit managers.
The Arizona State Retirement System invests with some of the biggest players in the business, including Ares Management, HPS Investment Partners, Cerberus Capital Management, GSO Capital Partners, Oaktree Capital Management and Monroe Capital, according to fund documents.
Of course, other problems plague pension funds, such as in the State of Illinois where people are fleeing due to higher taxes … to pay for their underfunded pension plans.
Illinois' pension problems are helping Illinois to have a credit rating one notch above junk. The City of Chicago is already rated as junk along with Chicago Public Schools.
How long before Illinois jumps on the direct lending bandwagon? After all, it is easier to take on more risk than trying to fix the problem.